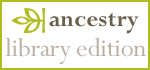 While the library is closed, you may now access Ancestry from home!
Follow these instructions:
1. Log into Badgerlink with your library card number using this link
2. The next page will show Badgerlink resources. You can ignore that page and return to this page on our website and complete step 3 below.
3. Click here to access Ancestry from home. It should show Kewaskum Public Library on the top right.
Questions? Email us at kewaskum@monarchlibraries.org
Ancestry – With more than 1.5 billion names in over 4,000 databases, Ancestry Library edition includes records from the United States Census; military records; court, land and probate records; vital and church records; directories; passenger lists and more!  Provided through the West Bend Community Library as part of the resource library contract with Washington County Library Services.
Access to this database is available for IN LIBRARY USE ONLY