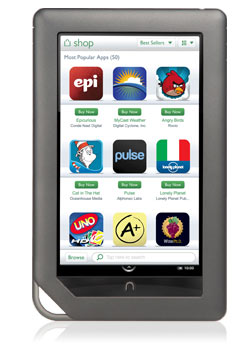 We currently have four Nooks available for holds. Two of these are Nook Colors and two are the (e-ink only) Nook Simple Touch. The Nook Color readers also include a web browser and games/apps. Click here for a .pdf download that contains all of the titles available on our Nooks. If there are some ebooks you'd like to see on the Nook when you check it out, please let us know.
If you already own an ebook reader, there are THOUSANDS of ebooks available for check out by you, on your device (Nook, Kindle, iPad, Sony, Kobo, etc.), right from the comfort of your home, from our Digital Download Center.
Requirements for Checkout:
Must be 18 years of age or older
Must have an active Library Card
Loan Guidelines:
May checkout eReader for 14 days
No renewals are allowed
Overdue charges of $1 per day will be assessed for any late returns
These readers cannot be "put on hold" using the online catalog, the only way to place a hold on them is to call or talk to a staff member at the front desk.
All users will be required to sign an acknowledgment of replacement cost when they check out an ebook reader.
Replacement cost for the Nook Color is $250 and $30 for the case.
Replacement cost for the Nook Touch is $100 and $20 for the case.
There will be a charge of $25 for replacing a power cord on any model.
These devices must be returned INSIDE the library and ONLY to the front desk at the Kewaskum Public Library.
Thanks! We hope you come check it out!
[KPL]