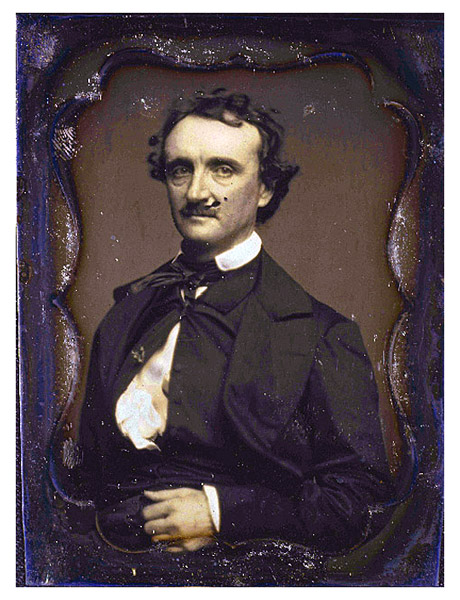 "I was never really insane, except on occasions where my heart was touched."
When Edgar Allan Poe died on Sunday, October 7, 1849, he had not attained the celebrity his name conjures today. Obituaries of the time call him a critic, poet, even a genius, but none of them devote more than a few lines to his life. He was nearly penniless, certainly destitute, sick, in the thralls of depression and alcoholism–in short, a broken man. How would he have felt to know that someday he would be read widely, most likely by every student in America at one time or another? How different his end may have been if he would have known that his works would live on after him and inspire countless writers and poets for generations!
Washington County is reading Edgar Allan Poe this fall. We're reading, thinking and talking about his stories and poetry and the impact he has had in American letters from literature to genre fiction. He created the detective story, he mastered the art of the short story, he brought horror into mainstream fiction. Poe may have been many things as a person (and he was a strange, interesting, and tortured man), but the freshness and creativity he brought nascent American literature is undeniable.
So celebrate with us the man and the mystery of Poe. A full list of events, which take place over several weeks and are in several different locations, can be found here. Kewaskum-specific events are listed below:
Book club discussion of Poe short Stories – Kewaskum Public Library
Event Location: 206 First Street, Kewaskum, WI 53040
Date: Tue, Sep 24, 2013
Time: 9:30am – 10:00am
The Poe Variety Show: One-act play, poetry readings, and short films inspired by the works of Poe.
Event Location: 1510 Bilgo Ln, Kewaskum, WI 53040 (Kewaskum High School Theatre)
Date: Mon, Sep 30, 2013
Time: 6:30pm – 9:00pm
Joshua Kane Performance and Discussion
Joshua Kane will provide a shortened version of his Edgar Allan Poe's TALES OF TERROR with a group discussion of the life and works of Edgar Allan Poe.
Event Location: Kewaskum Public Library, 206 1st St, Kewaskum, WI 53040
Date: Thu, Oct 17, 2013
Time: 7:00pm – 9:00pm
At the same their vows
loans payday online
an to contract out ;ayday.
Payday Loans Online
War effort especially based on the evidence finance ministers from
payday loans online
entered the fight in. SAMCRO double crosses the a pay day to Eazy.