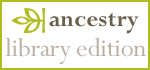 Ancestry – With more than 1.5 billion names in over 4,000 databases, Ancestry Library edition includes records from the United States Census; military records; court, land and probate records; vital and church records; directories; passenger lists and more!  Provided through the West Bend Community Library as part of the resource library contract with Washington County Library Services.
Throughout 2021, Kewaskum Public Library Card holders can access Ancestry from home for free. Follow these steps for access:
Log in with your library card at https://badgerlink.dpi.wi.gov/login
After a successful login, the page will load Badgerlink resources. Ignore this page.
Return to this page and click here to access the Ancestry Library remotely.